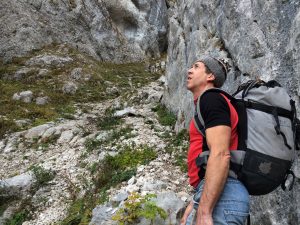 Pascal, why did you create TAZ?

Originally mountain guide, and RAT since 88, I managed a company of rope access services from 96 to 2006 .

Due to making me sweat in certain manipulations, one day, by working on cables and by looking (infinitely) at ski lift , I had this insight:

Why we would not make the perch of a ski lift on a rope? …. that would allow to come down on tense ropes.

In big blows of disk cutter and drill, I went up the first one proto in my garage. That worked! After the first one proto rather accomplished, we applied for a first patent, in 2002.

But it is only in 2010, after many vicissitudes, and while I went out of an operation of the knee, and while I said to myself that nothing had been launched on the market in between, that it was time to go there.

Helped by a friend of mind who is a designer , we finalized the foregrounds and the real prototype, which I was to present to the sailors, in the center of training Voile Course off Port the Forest (said the Valley of the Crazy ones …). I had the immediate support of 10 skippers which made me a subscription.

The Olivette had been born.

I then created TAZ to assure the manufacturing and the marketing of this device, whereas I took an independent's status to work in the certification of rope access technicians.

The idea to develop this product so that it worked in all the situations of ropes, and thus to make a tool really adapted to the work at height, germinated in 2012 and ended in new patents and in the prototype of LOV2 in 2015.

At the same time, the team widens and TAZ becomes a SAS with the ambition to give to its manufacturing an industrial reliability while keeping the spirit of innovation and the agility of its craft origin.

LOV2 was designed and made for you, to increase your mobility and capacity on ropes. We wish that it fills your expectations !